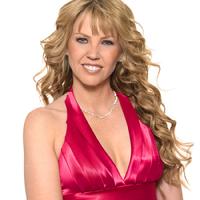 Owner, Ann Merin
Ann Merin
Founder,
Co-Owner
Color, Cut & Style Specialist, Great Lengths Extensionist, Makeup Artist.
Beauty was always a passion but never a profession for Ann until 2005 when she decided to do the unthinkable – leave behind her Ivy League business school education and a 6 figure consulting career to become a stylist and makeup artist and open her own salon. While training at Paul Mitchell in Orange Couny, California, Ann discovered she had a flair for makeup artistry and soon began styling photo shoots, weddings, and fashion shows with fellow Paul Mitchell alumna and future Beauty Heaven Beauty Director, Kelsey Clay. In 2007 Ann opened Beauty Heaven,
a high end, full service salon in Orange County, California which is particularly popular with brides who benefit from Ann's expertise in

wedding beauty

and airbrush makeup. While running the salon, Ann has continued to work on photo shoots and her work has appeared in magazines such DUB, Fairways and Greens, and Coast. She has also appeared as a

Beauty Expert on E!

and demonstrated her fresh perspective through articles she has written for local magazines and in her blog
www.beautydaze.com
. Ann currently appears on

TLC's Wedding Day Makeover
where she and the rest of the Beauty Heaven team help brides-to-be transform from their everyday looks to their wedding day fantasies. She is also working on a book about her life changing (and often hilarious) experiences in beauty school. Ann has an MBA from Columbia University and is a licensed cosmetologist with special certification in Great Lengths hair extensions, updo design, makeup artistry and airbrush makeup.
Beauty Heaven is on Facebook

Join Our Mailing List & Get Special Offers!

Beauty Heaven
2626 Dupont Drive, Suite A-30 (Jamboree & Dupont)
Irvine, CA 92612
949-309-2462